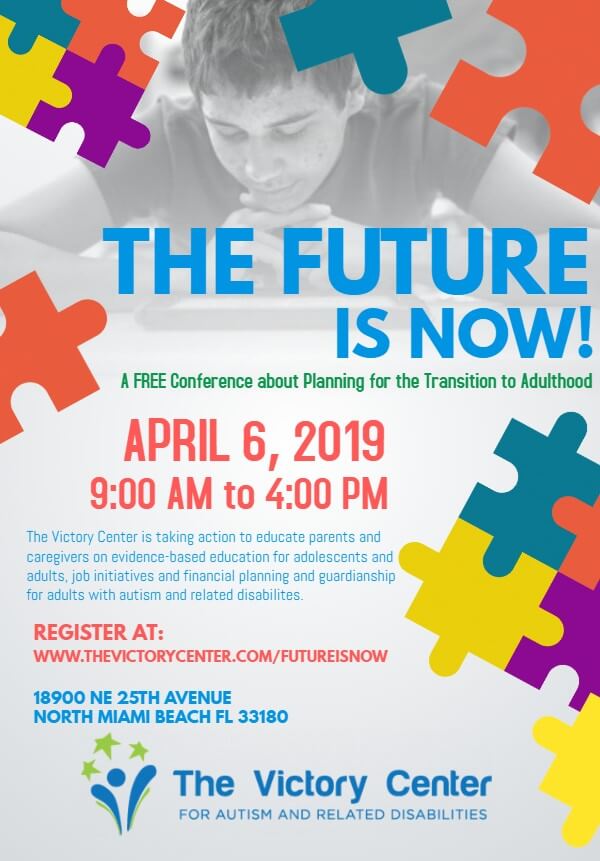 02 Dec

The Future is Now – April 6, 2019

Event Overview: The Future is Now Conference

Saturday, April 06, 2019

Michael-Ann Russell Jewish Community Center Theater

9:00am – 4:00pm

Organization Description:

For 18 years, The Victory Center has been shinning as a beacon of hope for countless families affected by autism. The mission of The Victory Center is to empower a brighter future for individuals affected by autism and related disabilities by providing hope, education and opportunities. 1 in 59 individuals are diagnosed with autism in the United States each year, and in direct response to those devastating statistics, The Victory Center continues to provide the highest quality therapy and educational services to students across the South Florida community.

Event Description:

Increases in the prevalence of autism and related disabilities translates to increasing numbers of individuals aging out of the education system. The Future is Now Conference, hosted by The Victory Center, is a premier financial planning and resource conference for parents and caregivers of individuals with disabilities across Southeast Florida. The one-day conference will be a comprehensive and resourceful event focused on the transition to adulthood for those affected by developmental disabilities, the associated challenges, and the resources and opportunities that are available.

The conference will feature professionals from the University of Miami CARD program, experts on Medicare, Med Waiver, Social Security, health insurance, special needs guardianship, vocational training experts and motivational speakers. The conference will also include a vibrant financial planning panel featuring a wide-array of professionals that will explore opportunities and financial resources for adult individuals with disabilities.